Reviews
Long's songwriting technique is strong. The catchiest piece, the titular 'Disappearing Wonderful', riffs on the yearning, broken-hearted ambition of Bugsy Malone's 'Tomorrow' – A Younger Theatre
. . . it's clear that the members of this graduate team are destined to a future far more productive than their characters' and will, no doubt, have a few more upbeat things to say by the time their reunion looms – A Younger Theatre
A common pitfall that Long avoids is the temptation to pause the drama to make way for the songs . . . similarly impressive is a sharply written rant on the psychology of CV construction – London Nights
Promising work from all, I look forward to seeing what this team accomplishes on a larger scale – London Nights
Disappearing Wonderful – Dress Run Highlights
What is Disappearing Wonderful?
Who actually wants to go to reunions?
If you do, you have probably done well. Lizzie, Steve and Freddie have not done well. By most people's standards, they haven't even done okay – but they tried.
Fledgling artists, with degrees in hand they entered the 'real' world, and it all went horribly pear-shaped.

As the ten-year reunion party rolls on and spirits are destroyed in more ways than one, Steve reflects on where they went wrong in the last five years, with flashbacks to their lives in the slow years after graduation. A story of love, friendship and life-philosophy, Disappearing Wonderful gives a light-hearted prod at the world, and a nod to arts graduates everywhere.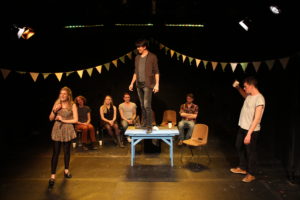 The Show

Disappearing Wonderful (music, lyrics and book by James Long, first directed by Tom Drayton at the Tristan Bates Sept 2014) was first written as a play, and was reduced for the 2014 run into a 45 minute musical, as per the requirement of the Musical Theatre MA at Goldsmiths.
This run also featured multi-rolling and was very economically tailored to the intimate venue by director Tom Drayton.